Miscellany 3 -

Kendal Mountain Rescue in Longsleddale

Mountain Rescue Teams are on call day and night for search and rescue; 24 hours a day, 365 days a year, in sun, mist, gales, rain and snow. They work alongside the statutory emergency services and have specialist skills and equipment which enable them to operate where others cannot reach. They are funded entirely by donations, and every member is a volunteer, giving their time and their expertise free of charge for training and equipment maintenance, as well as call-outs. They show amazing dedication in providing this service for local people and for visitors, and we are very grateful that they are there.

The Kendal Mountain Search and Rescue Team (KMSRT), based in Busher Walk, is called out more than 40 times a year for all kinds of emergencies in the South Lakes, Kentmere, Longsleddale and the Howgills, and to assist Mountain Rescue Teams in other areas. As well as mountain rescue, the teams respond to caving and river incidents, with many members trained in swift-water rescue techniques, to road and rail accidents such as the Grayrigg train derailment in 2007, and they take part in searches for missing people. In winter when the roads are bad they are used by the ambulance service to reach patients at home.

Visit their website.
Some Longsleddale callouts
9th September 2007 - 14.50hrs: Ambulance Control requested the team to attend the fellside near St Mary's Church in Longsleddale. A 22 year old male had fallen from his motorcycle during a trials event, sustaining possible back injuries. The team transported the casualty to the Great North Air Ambulance helicopter for onward transfer to hospital.

21st February 2007 - 16:30hrs: a request to assist an elderly local farmer who had fallen whilst out walking. Evacuation was made difficult by the terrain and a possible back injury, so he was airlifted from the scene of the accident by an RAF helicopter.

12th July 2006 - 20:00hrs: a difficult callout. An injured Ghyll Scrambler required assistance having fallen about 30ft into water, he sustained serious leg and other injuries, also hypothermia. An RAF helicopter was called but had to abort due to low cloud. After a lengthy rescue, the casualty was transported several miles to an ambulance.

Great North Air Ambulance helicopter at callout 9.9.2007
Exercises
KMSR was founded in 1953 by a group of local enthusiasts in response to recent deaths on the hills. It now has a team of nearly 40 qualified and experienced mountain-going members, as well as a number of support workers. The team has regular training sessions at base, and exercises in various different terrains, such as the crags of Longsleddale and its steep, rocky, fast flowing river.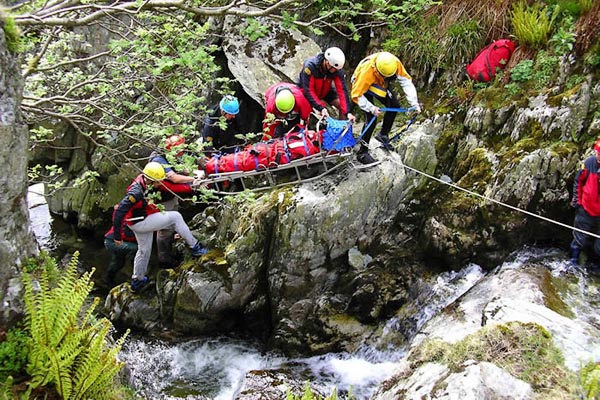 Team Training in the River Sprint - 18 May 2008
A casualty was evacuated from this gill on 12 July 2006
A voluntary team working on a call-out basis has to operate with a somewhat flexible command structure. Exercises are designed to teach members of the team to work effectively together in realistic and difficult situations, and gives an opportunity to practice skills and use equipment. All equipment comes from donations, including vehicles. The first vehicle, acquired in 1969, was an ex-WD Signals lorry, replaced by a Land Rover in 1973. Now the team has three Land Rover First Response vehicles and a Renault Traffic personnel carrier.

Medical equipment has also improved in leaps and bounds over the last decade, culminating most recently with the introduction of vacuum splints and mattress, and a portable defibrillator. In 2005 all teams in the Lake District moved over to the latest hi-band radios and very recently, the team has fitted a number of radios with military specification GPS microphones which allow real-time tracking during incidents. Team kit appeared during the nineties to give the public a sense of their identity, as well as to protect them in bad weather.
Exercise in Snow Cove, Goat Scar 31st May 2009.

2x150metre ropes, crag equipment and stretcher must be carried up.

Attending to the casualty. Three first-aiders with oxygen, defribulator,

morphine, adrenaline and bandages will be the first to arrive.

Designated communications officer
calling base for medical advice

Belaying the anchor rope for
lowering the stretcher.

Alpine tube - friction device to
control the main lower rope.

Rescues involving helicopters require additional special skills; training took place in Longselddale on 9th January 2011 with a helicopter from RAF Leconfield, Humberside.


| | |
| --- | --- |
| Helicopter above Raven Crags, 9th January 2011. | Briefing at Sandbeds, 9th January 2011. |
On the lighter side ...
Between December 2005 and March 2006 Kendal team members assisted the Lake District National Park Authority with the experimental planting of juniper, now an endangered species, at the top end of Longsleddale. To avoid unsightly fencing, it was to be planted on crags where sheep would be unable to eat the plants, hence the team's involvement. This caught the media's attention beyond Cumbria at the time. But it was not the end of the story ...

Call-out Report - Sunday 30th December 2007- 11:49 hrs: "While on a training exercise in the Whinfell area, the Team was called by the Police and asked to assist two sheep that had been cragfast in Longsleddale for four days. Our new GPS tracking system allowed us to identify the location of some suitable team members and they were requested to meet up with one of our Land Rovers for transport to Sadgill. The sheep had clearly encountered our team members before, as when they saw the lads abseiling down towards them they managed to make their own way safely off the crag! The good news was that the sheep rescuers managed to make it back to the pub in time for a New Year pint."

It is not often that the casualty's version of events is heard, but Ian Johnson obtained the following exclusive interview with Doris the Sheep:-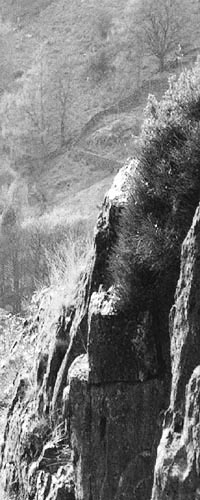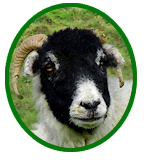 It started with Larry. Not the young tup who's been chasing me and Isabelle around since September. No, the old one. It was Larry who spotted those humans in red outfits planting the juniper bushes a couple of years back. The do-gooders may want to tart up the countryside, but don't they realise what juniper does inside a sheep? Obviously not. It turns to gin, of course.

It killed Larry. He managed to nibble a few berries at the edge of the crag, but the further up he went the more legless he got, until…. Poor Larry. He fell thirty metres ending on his back in six pieces, four legs and two rolled shoulders. He was brave, Larry, brave but headstrong. Well, that's rams for you. Isabelle had a shine for Larry. She'd been tupped often enough by him, I suppose, but she also got a taste for gin. And ever since then she's been wandering about Longsleddale looking for juniper.

It must've been last Thursday she scurried over saying she'd found some on a little crag opposite the old farm. "Some what?" I asked. I'd spent the last week trying to avoid young Larry who still can't remember who he's tupped and who he hasn't. By the end of December, I ask you. I'm getting too old for this annual event, especially as Larry seems to prefer the more experienced among the flock. "Juniper, of course!" snorted Isabelle, "What else is there?" How does she avoid Larry? Anyway I followed her up onto this ledge halfway up the crag, only to find a few chewed stalks and a small patch of grass soaked in sheep pee. While Isabelle was trying to work out who in the flock could've gazumped us (of course prime suspects were the Texels – she's never liked foreigners), I was wondering how we were going to get off the ledge, particularly Isabelle with her fear of heights. When I pointed this out to Isabelle she had a right hissy fit, dancing up and down on the spot. It took all my wits to calm her down.

That night was stressful. Well, have you ever been stuck on a ledge stinking of wee with an old sheep suffering from vertigo? I thought not. The next day the old man brought his dog up; not the young one we run rings round, but that mean old bitch with the glint in her eye who snaps at your heels. She was meant to chase us off the crag, but she scared the wits out of Isabelle. Then the rain came, so they left us.

By Sunday we were beginning to give up. Then, and this all may sound a bit woolly, my eyes seemed to focus on a bunch of juniper planters in their red suits heading straight for us. By the time I'd gathered my wits, one of them appeared above our heads on a bit of string. It gave me such a start I jumped straight off the ledge, and before I knew it I was scuttling off down the hill. Poor Isabelle was still a bit woozy from the grass with the urine aftertaste she'd decided to eat for breakfast. Pointing in the wrong direction, she looked as if she was going to hit the juniper planter. But he soon turned her round and she followed me down the hill, only stopping to relieve herself on one of their bags.

That was yesterday. Today? I've forgotten all about it. As for Isabelle, Larry caught up with her last night, and gave us all a bit of peace.

Published as "Sheep Shout Special" in the KMSR newsletter - "Mint Cake" - January 2008