Schooldays Remembered:
by Nancy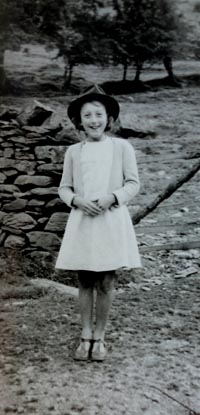 My family moved to Murthwaite in Longsleddale in 1939 when I was 3 years old. My father, George Edward Dawson, had been born in the valley, at Docker Nook, in 1892. He started school in March 1897, and can be found in the register page below. Then he left the valley to farm elsewhere, and he served in the first World War.
During the second World War we had evacuee families living with us at Murthwaite and nearby, and I am still in contact with them. My earliest memories are of playing with other children in the fields, and our favourite place was the island in the river.
From the age of five, I walked or cycled the 2 miles to the village school. There were 2 entrances with small cloakrooms, the present front door for boys, the back one - now the kitchen - for girls. The toilets in the separate block were buckets! As many as 17 pupils were taught in the single room, by one teacher, the infants starting in the north-west corner around a big stove, moving to the other end of the room as they grew older. Mrs Worden was the excellent teacher for most of my time there.
We did not have a sports area but did Music and Movement to the radio. Electricity did not arrive here until Christmas 1959 so the radio ran on batteries, which faded towards the end of the week. The farmers wives took their batteries into Kendal on Saturdays to be charged at Gilbert Parkinson's Cycle Shop at the bottom of Kent Street, whilst they sold their eggs and butter in the Market Hall. But the old glass/acid ones had to kept hidden on Sammy Mitchell's weekly bus as he did not like carrying them!
I left the school just before it closed in 1946, when I passed the scholarship examination to the Girls High School on Thorny Hills in Kendal. I was married in the valley and brought up 2 children at Murthwaite, where my son, his wife and 2 of my grandchildren now live. My husband and I live next door.